A simple haircut – A true story of business relationship
A simple haircut – is it really? Perhaps the value of "relationship" marketing can be seen in this story. Let's face it we all put a lot of faith and confidence in our hairdresser. Primarily to make sure they keep us looking at our best. Also we don't want them to muck up our appearance by slapdash craftsmanship.  And we definitely don't want them to ignore or not listen to our requests. For a small amount of time our continued or chosen appearance is in their hands.
About a year back I changed my hairdresser because I was unhappy with what was happening. She was cutting my hair far too short for my liking. It often looked stepped because my hairdresser had taken to using numbered combs on the hair clippers. While this was quicker and easier for her, it was not so good for me. Although she was friendly, I got the impression I was just another customer. Really nothing more than another turn of dollars into the till, just another daily number in her hairdressing business. Just another simple haircut.
A new hairdresser had just started in one of the other salons, so I took a punt.  She cut my hair just the way I wanted it. She checked with me throughout the task including letting me know some of the limitations of my thinning wispy hair. This pleased me, because she did more than just a simple haircut.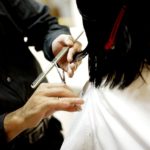 Fast forward about ten haircuts or so and she informed me she was handing in her notice. Over the past year we had developed a good relationship and I liked the way she cut my hair and her manner. "Who's going to cut my hair now", I asked.

She responded that she was setting herself up at home to work with a handful of special customers. She said she was not trying to take clients from her current employer. Rather she only intended to tell a few of her personal customers whom she liked or had come over with her. This also made me feel important.

I bumped into her a couple of days later and she told me she was immediately dismissed with her notice. Apparently, the owner was afraid she would take all of her customers if she stayed on. This surprised her as she was sure customers would remain loyal to the salon. She also seemed upset as she believed there was not enough staff left to look after the customers properly, while her replacement was found.

Interestingly, later in the week I passed the salon owner in town. I regularly bumped into her in the past. However, for the first time she went out of her way to say hello and engage me in conversation. Too little too late! She had had a year to build a relationship, even if it was just an occasional word on the street. I was polite, but it's too late to try and keep me as a customer. In a way it's a pity because her salon is five minutes from home and in town, so I could multi task my visits.

Now I choose to travel fifteen minutes to get my hair cut. Not just because of my hairdresser's skill, but more importantly because she has let me know that I matter, that I am as important to her as she is to me.

You see, her boss thought she was in the business of cutting hair. She believed customers remained, for as long as they needed it cut. (About every six weeks for most of us). Our turning up was taken for granted. The  assumption was that we would turn up, as long as the job was OK and the price reasonable. But when someone like my hairdresser builds a relationship around her skill, people like me will follow her.

My recommendation: Take a close look, are you merely performing function, regardless of your skill level, or are you adding value and building strong relationships with your all important customers? The answer can make a big difference to your longevity and your profitability!

Ron and Sue