Airbnb our first experience.
While booking everything for our trip to Salt Lake City for our company convention we decided to look at Airbnb. We had heard lots of good reports about Airbnb. As baby boomers this was a totally new concept for us.
In the past we had always just booked into a nearby hotel. We looked at the local hotels and prices, including a discount for booking through our company. After talking to friends we decided to take a look at Airbnb.
As we like to stay at places off the beaten track and a little different we found lots of quirky places on the website. We didn't like the idea of share accommodation therefore we opted to search for an entire home. Most of these offered a condo, basement or small unit. One caught our attention, it was a standalone building that was a barber shop in a previous live.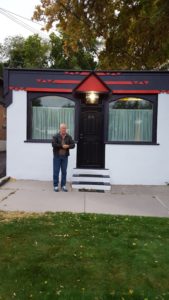 Further research on Google Maps showed that it was a comfortable walk from our convention and downtown Salt Lake City. The price was also about 70% cheaper than all the hotels available.
Our Hosts.

While we were sorting out our last minute details, we contacted our host and were advised where to find the key. About an hour after arriving we ventured out to find some dinner. As we stepped outside a car pulled up and it was our host. She stopped and as well as chatting for a few minute she told us where there were a couple of good places to eat.

The next day our host's husband called in to introduce himself and ask if there was anything we needed, he also left us his mobile number.  We couldn't have asked for better hosts for our first experience with Airbnb. They were available if we needed anything and left us to ourselves.

Next time we travel we will definitely be looking at Airbnb for our accommodation.

Ron and Sue
---