Currumbin Wildlife Sanctuary
Our 10 year old Grandson who now lives in Canada recently visited Australia. He and the family had not been here since he was a baby. As soon as he learned about their trip, his only request was to hold a Koala.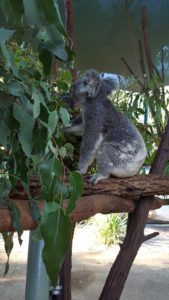 After much research it was discovered that Queensland was one of the few states in Australia where it is legal to hold a Koala. They choose Currumbin Wildlife Sanctuary as the place to go. Thursday seemed to work the best for everyone. We booked tickets for everyone, including a tour of the Koala enclosure and a photo holding a Koala. As Sue's elderly Dad was also joining us we also organized a mobility scooter for him.
The day finally arrived. Our Grandson was not well, suffering a burst ear drum, but nothing was going to stop his visit. On arriving at Currumbin Wildlife Sanctuary we booked in for our Koala experience and set off to explore. I can recommend Currumbin Wildlife Sanctuary as a place to visit for all overseas visitors. The Kangaroo enclosure was the first stop. Here you could walk among the Kangaroos and feed them. A couple of joeys were hopping around as well as many larger ones.
We had allowed plenty of time to take it all in and enjoy a leisurely lunch. As we walked around the vast area you could see our Grandson was getting very excited about holding a Koala. Birds, wombats, snakes and other attractions were not really holding his full attention. He kept asking if it was time to go to the Koalas.
At last it was time for our appointment with the Koalas. During the first part of the tour we learnt all about Koalas. Then finally it was time to hold one and have our photo taken at the same time.

Our last activity for the day was the bird feeding. Hundreds of lorikeets descended into the feeding area to the thrill of the crowd. We all purchased some feed and enjoyed having lots of birds land and help themselves to our offerings. As exciting as this was for the rest of us, we couldn't help but feel that this was something of an anti climax for our grandson.

It was a great joy for us to share this experience with our grandson and his parents. Having his great grandfather along also helped to make the day special. We really do consider ourselves fortunate to have a network marketing business that allows us the time and finances to be able to do things like this when we need or want to.

Would you like to know more about having your own part or full time income, along with the time to enjoy it? If so, please contact us or give us a call, +1 7 5427 9618.

Ron and Sue